Back… WAY back in the day, there used to be this radio station that covered the San Joaquin Valley called KKDJ. It played AOR rock, and had great JD's and personalities that always entertained.
Ahh… The "good ol' days".
Back in this time, so long ago – just slightly after the dinosaurs went extinct –  we didn't have the internets and steaming music services and mp3 players and smartphones with "gigs" of music on them. We, well I, didn't have a lot of disposable cash to go out and buy tons of records. The solution was to place a cassette tape recorder in front of the home stereo speaker and press record.
And often a stereo wasn't even something that played music in stereo. For much of my childhood, my musical life was in mono. The family had one of these, and it only had one speaker… It was a "Mono", not a stereo!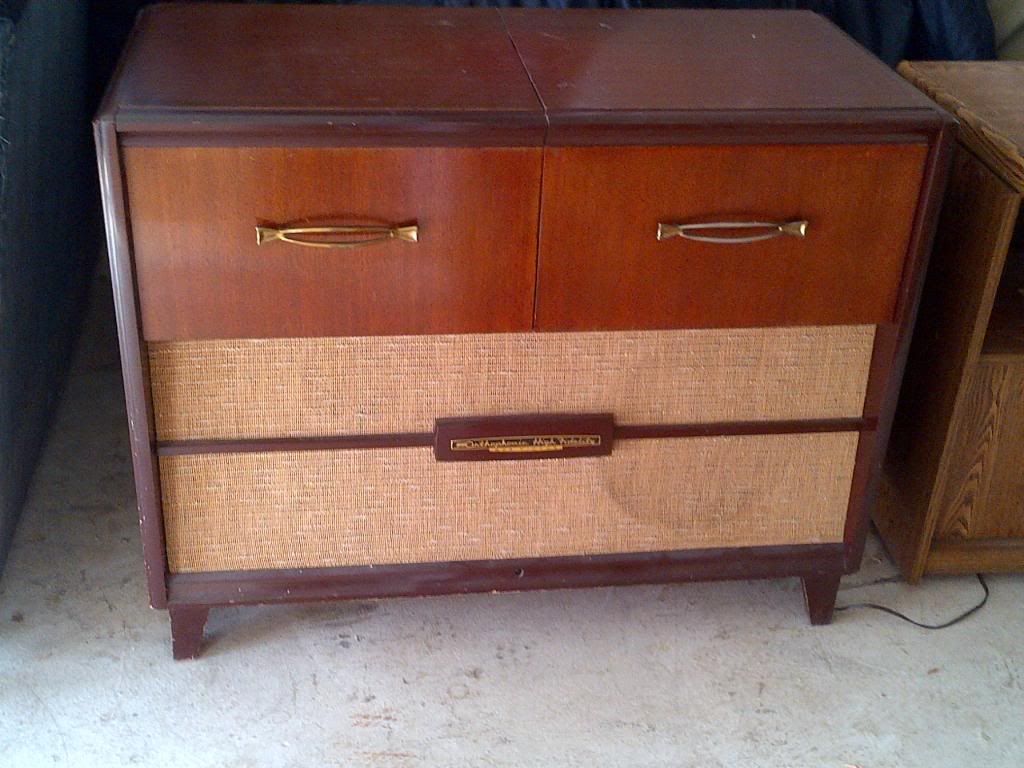 This is what the inside typically looked like.
They were big and heavy, and ours was mono. But it got the job done.
Then we got one of these! A REAL Stereo!!!! With a cassette deck!!!
I could now ditch the little cassette recorder and record things in STEREO!!!
BEAUTIFUL SACRED STEREO!!!!!
I happened across a picture of the exact same model we had. I completely forgot it had a DIGITAL display too…. IT WAS GLORIOUS!!!!!!
This post was not even supposed to be about the stereos of my past, but there you are. The topic of the post is lost music, found. The big and popular songs are readily available on YouTube, Pandora, Spotify, etc (I won't use Spotify btw, and rarely use Pandora). But what about the songs that did make it to the airwaves, but never became hits. In my late 20's, I could scrape up some money to buy the CD's if I really liked the song. Before that, Miami Vice, with its fashion and flair, had cemented songs into pop culture that may have otherwise also been forgotten… Hello Lunatic Fringe! MTV had come, done it's thing, and was starting to die, taking the music video along with it. What about song that didn't make the cut for either, but weren't bad songs? They were played on the radio for a bit, but never hit it big. Those songs faded quickly from the playlists, as well as the record stores. But for my cassette taping sessions, so many of these songs seem lost for ever. To make matters worse, most my tapes got lost to time; hungry car tape players, car break-ins, and many a move over the years. Funny thing is, I can still remember so many of those songs. They're "Ear Ghosts", and have remained with me, even 40 years later.
Here is one example. I always remembered this song. I had no idea who did the song, but I remember the verse and the chorus. It's been rattling around inside my head for all these years. I looked for it over the years, but the title "Keep On Fighting" is not exactly unique and tons of hits for different songs come up when you google it. This morning, for what ever reason, I decided to search yet again…
BINGO!!!!
And here it is. Who remembers it?
Here's another. Anyone remember the group 707? They did have a semi-hit with the title track to the silly MEGAFORCE movie, but this was before that.
Shooting Star???
Try googling Toronto. You'll get everything, even but the band named after the city doesn't show up. They were a fun band though, and had at least two songs that are on my "lost" list. I keep thinking there is one from them I forgot. The lead singer has a pretty strong and memorable voice. Through the magic of the internets, I just found out this group are the original writers of the song, "What About Love", made famous by Heart.
Anyone remember the group Prism?
What some of your favorite "lost" songs?
PS. It's interesting that many of the band linked above are from Canada.
2 Comments to "Celebrating The Old Forgotten Song!!! The Teenage Years."
RSS feed for comments on this post. TrackBack URI