Well, we may be having a cold winter, but the Climate Wars are heating up! Real Climate has posted a rebuttal to an article that appeared in Forbes, titled "Hot Sensations Vs. Cold Facts", and dutifully goes about the business of  debunking this supposed  "blistering attack on climate science".
They start thus:
Bell uses the key technique that denialists [my empasis] use in debates, dubbed by Eugenie Scott the "Gish gallop", named after a master of the style, anti-evolutionist Duane Gish. The Gish gallop raises a barrage of obscure and marginal facts and fabrications that appear at first glance to cast doubt on the entire edifice under attack, but which on closer examination do no such thing. In real-time debates the number of particularities raised is sure to catch the opponent off guard; this is why challenges to such debates are often raised by enemies of science. Little or no knowledge of a holistic view of any given science is needed to construct such scattershot attacks.
They proceed to take apart the assertions made in the Forbes article:
Record Low 2009 and 2010 Cyclonic Activity Reported

Bell's first claim is not a confidence builder.

It's possible that Bell is referencing a specific metric of hurricane activity (Accumulated Cyclone Energy), but that does not give a full story, nor does it show 'record lows'. According to NOAA the 2010 Atlantic hurricane season, which ended Dec 31, was one of the busiest on record. In the Atlantic Basin a total of 19 named storms formed – tied with 1887 and 1995 for third highest on record. Of those, 12 became hurricanes – tied with 1969 for second highest on record. Five of those reached major hurricane status of Category 3 or higher. 2010 was just behind 2004 and 2005 for earliest occurrence of a third category 4 hurricane.

It is true that none of the 12 hurricanes made landfall in the US (though tropical storm Hermine made landfall in US and hurricane Karl made land fall in Mexico but caused major flooding in Texas. But the climate system cares nothing for national borders. This may be just a lucky break . Looking in detail it is attributable to some other features of the prevailing winds last year.

What is certainly untrue is that there was "record low" cyclonic activity in the Atlantic!

What about elsewhere? A tie for the strongest eastern Pacific hurricane on record (Celia). A category 5 hurricane hitting the Philippines (Megi).

Did the press ignore this story? Even on this Bell's leading point is dubious. But in the context of climate change, sea surface temperatures continue to increase and strong tropical cyclones continue their upward trend. So Bell leads off with a real clunker.
Uhm… That clunking sound you just heard was produced by none other than Real Climate.  First, RC does a bait-and-switch attack. Larry Bell, the author of the Forbes piece, writes this:
As 2010 draws to a close, do you remember hearing any good news from the mainstream media about climate? Like maybe a headline proclaiming "Record Low 2009 and 2010 Cyclonic Activity Reported: Global Warming Theorists Perplexed"?
The bait-and-switch – Real Climate only talks about the Northern Hemisphere , and ONE Pacific storm – NOT global ACE! Here is the announcement for ALL hurricane and cyclone activity for 2010. Here is the graph showing ACE from 1970 to the present.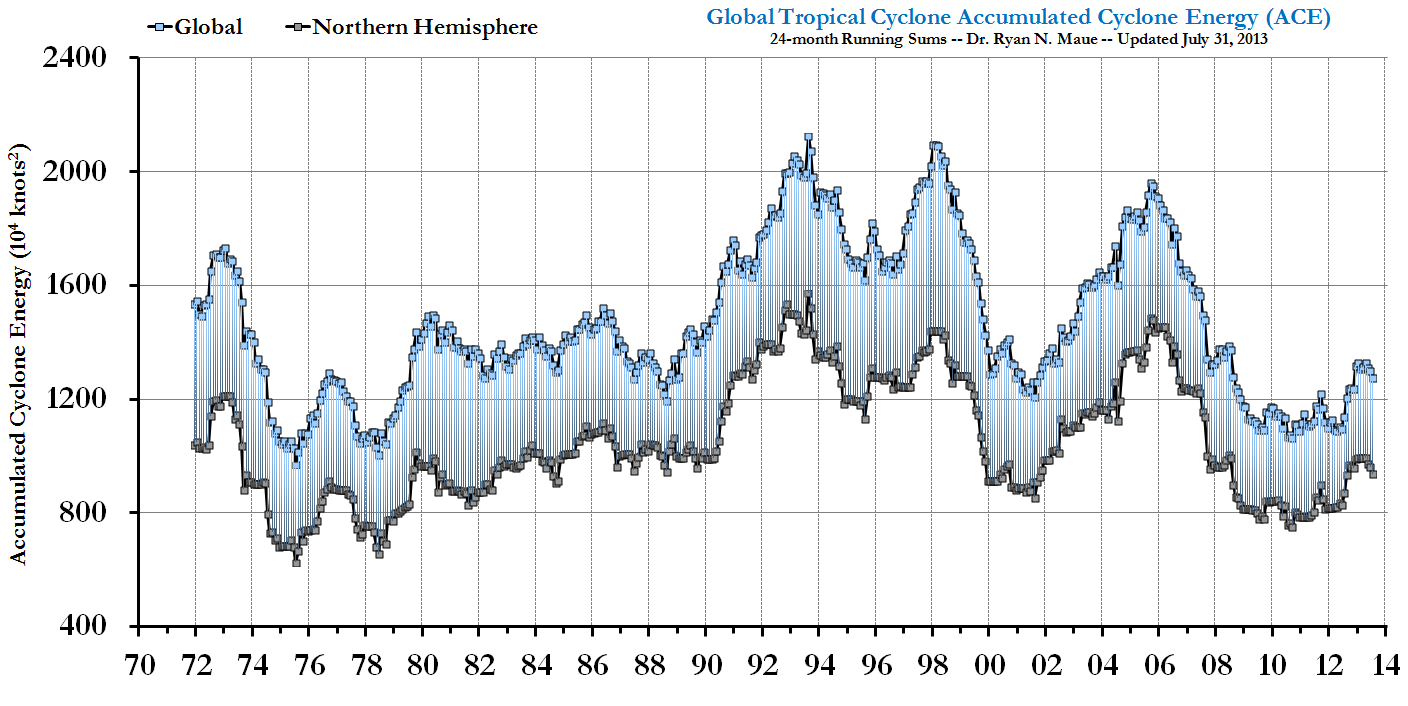 Here is the 12 month running trend.
This bait and switch is particularly onerous, because it is Real Climate's Gavin Schmidt and the pro Global Warming crowd who so often remind us that, although 1934 was the warmest year in the Northern Hemisphere "In the global mean, 2005 remains the warmest. "
To paraphrase Real Climate – "Real Climates first claim is not a confidence builder".
Next up for Real Climate:
NASA Studies Report Oceans Entering New Cooling Phase

Bell's second point, also from the lead paragraph:

According to two separate NASA studies, one conducted by the Jet Propulsion Laboratory, and the other by the Langley Research Center, the oceans now appear to be heading into another natural periodic cooling phase within a typical 55- to 70-year dipolar warm/cool pattern.

We traced this claim to an internet article by Justin Berk that says:

Two separate studies through NASA confirm that since 2003, the world's oceans have been losing heat. …
First black mark – Real Climate assumes this is where Bell got his info. Why not just call and ask "Hey Lar… what was your source on this"? Anyway, to rebut Bell, RC points to an article titled "Correcting Ocean Cooling" where they show the cooling was just an instrument error and, in fact, ARGO the oceans were still warming. The data refereed to in the study was published in 2006 by Josh Willis.
"First, I identified some new Argo floats that were giving bad data; they were too cool compared to other sources of data during the time period. It wasn't a large number of floats, but the data were bad enough, so that when I tossed them, most of the cooling went away. But there was still a little bit, so I kept digging and digging."…

…when [Willis] factored the too-warm XBT measurements into his ocean warming time series, the last of the ocean cooling went away.

So the new Argo data were too cold, and the older XBT data were too warm, and together, they made it seem like the ocean had cooled," says Willis. The February evening he discovered the mistake, he says, is "burned into my memory." He was supposed to fly to Colorado that weekend to give a talk on "ocean cooling" to prominent climate researchers. Instead, he'd be talking about how it was all a mistake."
Please note that I am not criticizing either the scientists or the handling of the data in any way, but simply pointing out that great pains were taken to make sure they got things as right as possible. Real Climate goes on:
What's more, the NASA article itself is from 2008, so even if the press had reported it as news as Larry Bell suggests, it would not have been in 2010. But in fact, the news was that the previous evidence of cooling was erroneous. Bell's second point is simply wrong as well.

Now that we have some sense of the quality of Bell's research…
Uhm… Scratch that! The supposed "Non-Science" website "Watts Up With That" just this week linked to the updated ARGO measures… And guess Watt? Even with the adjustments mentioned in the "Correcting Ocean Cooling", ARGO still shows a cooling trend in the oceans! Here is the abstract of the paper newest paper:
A recently published estimate of Earth's global warming trend is 0.63 ± 0.28 W/m2, as calculated from ocean heat content anomaly data spanning 1993–2008. This value is not representative of the recent (2003–2008) warming/cooling rate because of a "flattening" that occurred around 2001–2002. Using only 2003–2008 data from Argo floats, we find by four different algorithms that the recent trend ranges from –0.010 to –0.160 W/m2 with a typical error bar of ±0.2 W/m2. These results fail to support the existence of a frequently-cited large positive computed radiative imbalance.

1. Introduction

Recently Lyman et al. [1] have estimated a robust global warming trend of 0.63 ± 0.28 W/m2 for Earth during 1993–2008, calculated from ocean heat content anomaly (OHC) data. This value is not representative of the recent (2003–2008) warming/cooling rate because of a "flattening" that occurred around 2001–2002. Using only 2003-2008 data, we find cooling, not warming.
That means from 2003 to 2008, the most current data available, The oceans have indeed cooled. The paper concludes:
In summary, we find that estimates of the recent (2003–2008) OHC rates of change are preponderantly negative. This does not support the existence of either a large positive radiative imbalance or a "missing energy."
Note that they did not use the previously mentioned XBT data, they used the newest data availible, and that Josh Willis, the main scientist from the "Correcting" article, was consulted for this paper.
So, I guess Bell's quality of research is better than the supposed researcher scientists at Real Climate.
There is more criticism of Larry Bell and Forbes by the folks at Real Climate, and some may have merit. But I highlight the two above to show how sloppy and arrogant the gang at Real Climate can be when defending there alarmist wing of climate science and global warming. They state:
It is, in fact, easier to form an allegation than to track down a reasonable explanation of what it means and how it really fits in to the balance of evidence.
Apparently… The way they do it at RC. And then there's this little nugget, which set me off on this post in the first place:
The strategic point is to divert attention from what most scientifically informed people consider the key facts: the climate is changing as a result of human intervention. The longer we delay taking policy action, the more damage we will take and the more an effective policy will cost.
Translated – If you disagree with our assessment that ALL the recent changes observed in climate, especially over the last thirty years, are all due exclusively to the extra CO2 humans have spewed into the atmosphere, AND you don't agree with the draconian measures we prescribe to fix the problem… Well, then, you're obviously a scientific illiterate!
How arrogant!
This whole exercise by Real Climate is a total disaster. Here's the deal. Not only did they get so many scientific facts… just wrong… but I doubt that many people would have paid any attention at all to the Forbes article in the first place. It's nothing special. But, because the geniuses at RC not only took Bell to task, but made such obvious errors doing so, it will only draw more eyes to the article they so despise. How can a group of people who are supposed to be so smart not know when to shut up!
They really do need to go back to school and take a few courses on public relations.
PS. If you want a sample of what climate scientists want us to change to stop global warming, my blogpost titled "Why Climate Scientists Should NEVER Be Trusted With The Fate Of The World." should provide a clue.
PPS. The title of the post refers to this previous RC outing.
1 Comment to "Holy Conflicting Science Batman! – Real Climate STILL Plays Defense Worse Than The Cleveland Browns!"
RSS feed for comments on this post. TrackBack URI